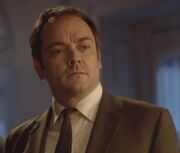 Canton Everett Delaware III
was a former FBI agent who assisted the Eleventh Doctor in 1969 & in 2011 in "
The Impossible Astronaut
"/"
Day of the Moon
". It was Canton who tricked a Silent into providing the video footage ("You should kill us all on sight.") that the Doctor spliced into the recording of Neil Armstrong first setting foot on the Moon.